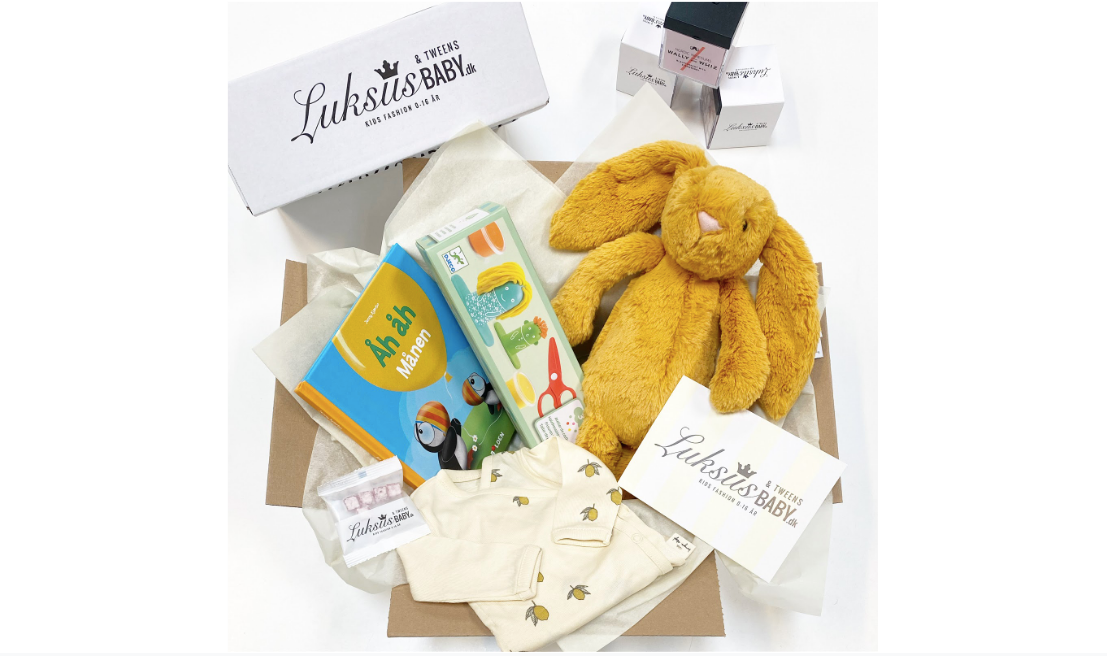 Setting the flavour for an extraordinary customer experience
Sticking out of the crowd in today's world of online stores is no easy task. But we at WALLY and WHIZ can think of one company that does it well,  and we are proud to be a part of their journey to success. Our friends Ann-Louise and Morten from LUKSUSBABY are setting a high standard for customer experience. Their mission: Providing the best quality clothing for children. Their key to success: let's find out!
Luksusbaby parcel with personal note
From passion to business
Let's start in 2013. That year, Ann-Louise and Morten, the founders of Luksusbaby, became happy parents of their twins Noor and Naia. Having two fast growing babies, the young parents soon faced one major problem: Baby clothing. For Ann-Louise, this turned out to be especially cumbersome since she values high quality, luxury clothing - something, she couldn't find for her youngest in Denmark at that time. Being frustrated by the dull offers of luxury baby clothing in Danish Online Stores, Ann-Louise took it into her own hands and started Luksusbaby. 
Now, 7 years later, Ann-Louise and Morten are not only proud parents but also happy owners of a successful Online Store with worldwide delivery and a boutique in Aalborg, Denmark. Their numbers tell the same story: with over 80 employees, numerous prizes won and millions of DKK in profit, Luksusbaby has a bright future. How did they do this? The answer lies in a beautifully crafted customer experience.
Tiny gifts with huge impact
But what is so good about Luksusbaby's customer experience? 
"Customer experience has become such an ordinary expression today that we as customers do not expect the world"
We as customers have gotten so used to things like next-day delivery or 24/7 service that we are irritated, if not seriously upset, if we don't get what we consider to be "basic customer service". Thus, in order to break the ordinary and create something truly extraordinary, Ann-Louise and Morten go a step further. Not only do they deliver the next day, but they also add a personal note and gift to each order. 
"We want to make people feel that we really care about their parcel and value the time we spend on it. A parcel is not just a parcel. It's a gift to make people feel good." - Morten
With each parcel, Ann-Louise and Morten set a new standard for customer experience and they deliver to this standard every single day. And it works! Simply look at Luksusbaby's customer reviews and you'll find that most happy shoppers mention the fast delivery and the personal note. 
The cherry on top: WALLY and WHIZ
But Luksusbaby took the "extra" in extraordinary a step further and have begun including Wally and Whiz winegums in each parcel as a sweet little message of gratitude for the people who contribute to their journey towards success. 
Luksusbaby featuring Wally and Whiz winegums
"Adding some Wally and Whiz winegums to our parcels makes the experience we want to create for our customers even more complete. We share the same values of good quality so it's a good fit. And our customers love the winegums." - Morten
Adding something simple as a small gift can have a huge impact on the whole unboxing experience creating something extraordinary for the customers. In fact, Luksusbaby's customers' love the winegums so much that you can now find the products on the online store next to the baby clothing as separately sold items.
Tips on how can you improve your customer experience today?
Good customer experience is not "nice-to-have" but the bare minimum people expect these days. Make sure you have the basics in place.
In order to create extraordinarily good customer experiences, you have to do the unexpected: like adding a personal note, card or token of gratitude.
Find partners that share your values and leverage your customer experience even more. This will often benefit both parties.
Further tips on improving your customer experience:
written by Lena Marijke Wenzel