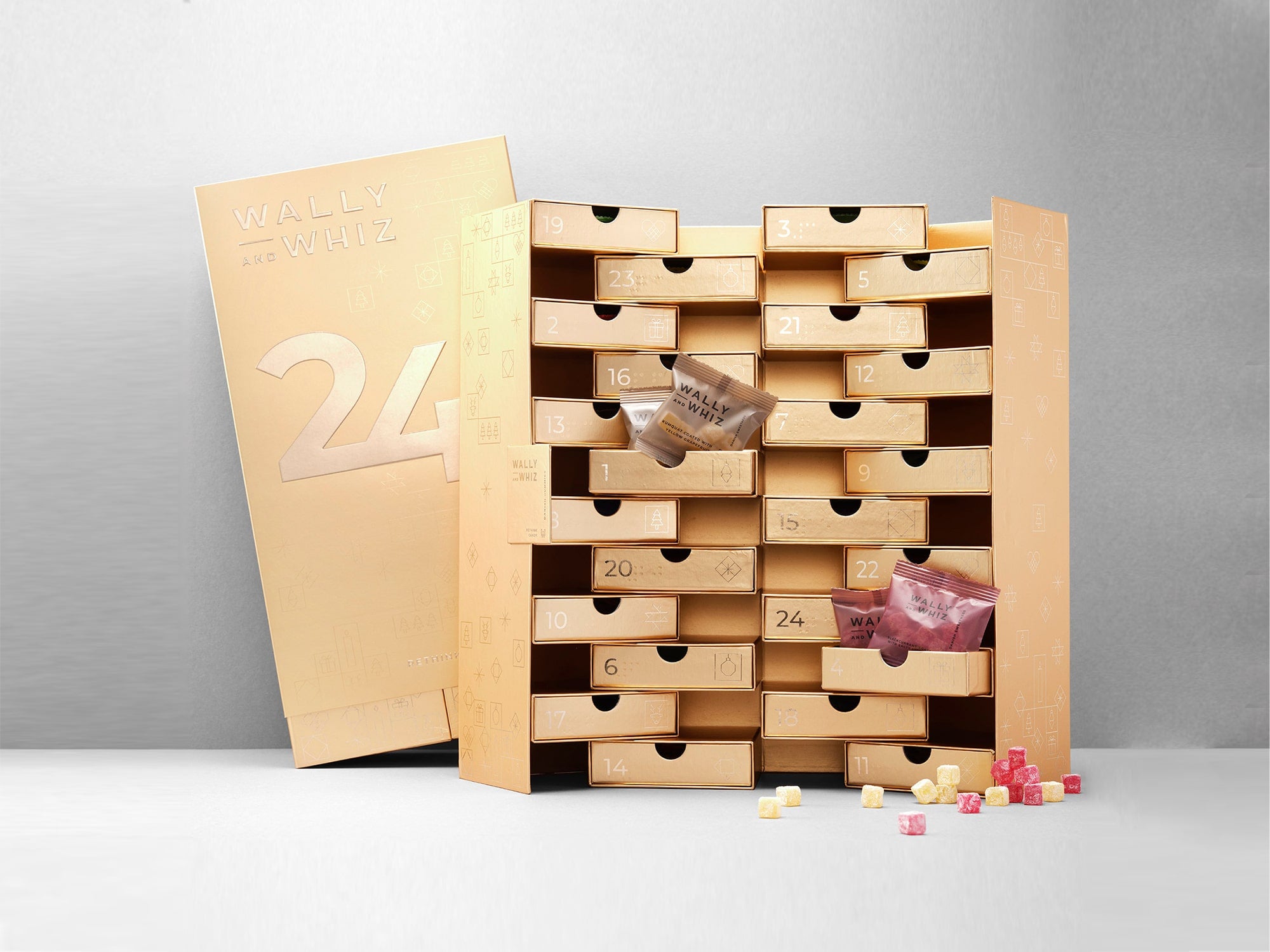 24 days of delicious winegums
THIS YEAR'S SHARING CALENDER
OUR PASSION
THE GOOD TASTE
Flavours are not only an essential part of our product. It's also a part of our brand story. A Wally and Whiz winegum always consists of two flavours, which complement each other, and together they create a delicate and exquisite taste experience.

One flavour is found in the coating of the winegum, while the other is packed inside. This way, one flavour is released as soon as you put the winegum into your mouth – the other as soon as you put your teeth into it.

We are curious about new flavour combinations, and we are constantly searching for new and exciting flavours. We find inspiration for new flavour combinations in berries, fruits, roots and flowers from all over the world – and we want to share our curiosity and thus inspire to experience new flavours.

We also believe that unique taste experiences come from using only the best ingredients. That is why we use natural flavours and colours in our winegums. They are 100 % vegan – and free of gluten and allergens.
Quality for the money
I had ordered a gift box for my daughter and a sample pack with different flavors for myself. Tasted really good. Love good quality and look forward to giving the nice gift box to my daughter instead of a flower 💝
- Monika E.
Quality to the last little square
Really good taste, very good balance in the different flavors, a super good experience every time... hard to put the lid back on once it's off😅
- Brian L.
Insanely good service!
The world's best gummies! Got an advent calendar where I found a favorite... To this day, the best service I have ever experienced. This will be the brand I order from when I need gummies.
- Jeppe A.
The world's most delicious gummies
The world's most delicious gummies! I'm not particularly into gummy candy, but these... YUM! The taste, the texture, and the delicious coating - a heavenly trinity! Bonus: They are gluten-free, so you can indulge even if you have celiac disease! I'm a fan!
- Camilla S.
A truly fantastic experience to enjoy these...
A truly fantastic experience to enjoy these small gummies with a wonderful taste experience. They will be used as a hostess gift in the future.
- Annett N.